Press
Articles
© 2017-2019 Golden Glass - Koub Glass. All rights reserved.
made by red M blue

Koub
Bottles
Jars
Gallons
Jugs
Caps
Golden
Gallons
Jars
Jugs
Nargile
Bottles
Artistic
Centerpieces
Plates
Glasses
Decorative
Caps
Accessories
© 2017-2019 Golden Glass - Koub Glass. All rights reserved.
made by red M blue

© 2017-2019 Golden Glass - Koub Glass. All rights reserved.
made by red M blue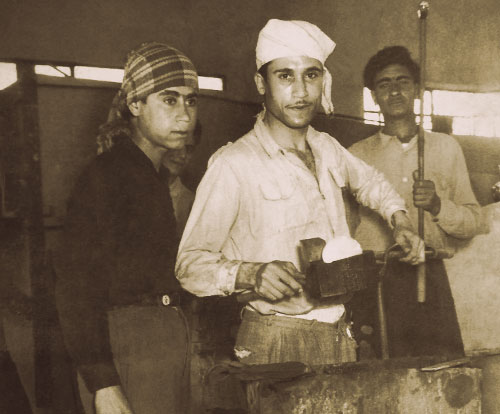 Golden Glass was founded in 1949 by Mr. Hassan Koubaytari. It was a small factory producing glass containers by hand, using traditional equipment.

In 1995, we founded a new company, Koub Glass. It's a Glass & Caps trading company, with more than 70 articles to offer. Each article has its own sub items with a wide range of shapes, sizes and designs of glass containers and closures. Our range spans from 30 ML to 10 Liters for glass, it also includes all types of closures.

Now, after the big effort of the last 2 Koubaytari generations, Golden Glass and Koub Glass become two of the leading companies of glass industry and trading in the Middle East area.

In the beginning of 2009, we started to work towards an ambitious new project, to export our products and the Lebanese tradition all over the world. For that, we decided to look to the Italian market as one of the most important glass producers with the oldest tradition in this sector, that's why our furnace, machines and equipment are made by the most qualified Italian companies, we also introduced in our staff an Italian team specialized in glass production. We also are registered for the Certification of Global Security Verification (GSV). We also meet all international specifications regarding food safety and health.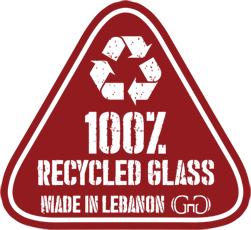 In Golden Glass, we use 100% RECYCLED GLASS in our production, 15 tons per day.
In one way or another, WE HELP SAVE THE NATURE.

Today, we have a wide variety of modern products such as gallons, bottles, jars, centerpieces, plates and many more. You also can still feel the magic when you visit us, by taking a look to the handmade production process, the tradition that we kept through all these years.
Our products are well known all over the world, especially in Lebanon, MEA, Europe and USA.

Our strength is the technology, flexibility and creative attitude as results of co-operation between the Lebanese and Italian traditions.
Jugs
Our range at a Glimpse
Jugs Collection
Jugs
Our range at a Glimpse
Jugs Collection
Jugs
Our range at a Glimpse
Jugs Collection